ZOOM!® Teeth Whitening


Professional teeth whitening is a popular, safe and economical way to change a smile. Teeth whitening procedures can help remove old stains from coffee, wine, tea, smoking or colas and lighten other discolorations in tooth enamel.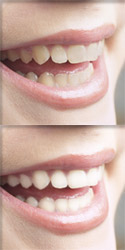 The ZOOM!® system allows us to whiten your teeth in a single visit.
The process is simple:
We begin by recording your starting tooth shade.
We cover your gums using a special paint-on plastic material to isolate the teeth and keep them dry.
Whitening gel is applied to the front surfaces of the teeth and then activated using a light specifically designed to interact with gel ingredients to break through old stains and whiten tooth surfaces.
We repeat this process two to three times while you relax in the dental chair and listen to your favorite music.
In a little over an hour, we remove the covering material and check your new shade, often several shades lighter than your beginning shade.
Read more about ZOOM®
In addition to ZOOM!®, we also offer take-home whitening in our practice. Using custom clear trays fabricated to hold whitening gel, wearing these trays for about an hour a day can usually achieve lighter teeth after a few weeks.



Want to brighten up your look?

Contact Us today to schedule a personal consultation and explore options to whiten your smile.
Leanne McDonald, DMD, MAGD · 325 East Pushmataha Street · Butler, Alabama 36904 · Ph. 205.459.5535
Leanne McDonald, DMD, MAGD is a General Dentist located in Butler, Alabama. We proudly serve patients in the west Alabama
and east Mississippi area, including Choctaw and surrounding counties, Tuscaloosa and Meridian.