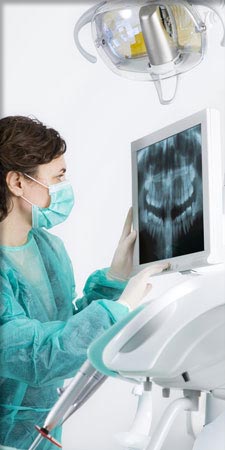 Understanding Your Needs is our Priority
Our approach in caring for your smile begins with a comprehensive analysis of your dental health and a thorough review of your medical history. Research continues to draw a number of connections between oral health and systemic conditions such as diabetes, heart disease and digestive disorders, as well as links to pregnancy and birth weights. It is important to us that we do our part to give you a healthy smile to support optimal health and total well-being.

Our detailed examination includes necessary digital xrays, photographs, study models and bite registrations to evaluate the stability, strength, and balance of your bite and how well it supports your ability to properly chew and speak.

Measurements of your gums and careful assessment of each individual tooth will help us uncover any disease or infection that may pose a threat to your oral health.

Good bone and jaw support are critical to a healthy bite. We will ask you a series of questions about your jaw joints and note any clicking or other noises that you may hear as you open and close your mouth. Our digital xrays will help us map existing bone levels; adequate bone support is essential to tooth retention.

Following our fact-gathering process, Dr. McDonald will study your records carefully and arrive at recommendations to care for your smile. Your concerns and previous dental experiences are an important consideration in developing a plan that is customized to your specific needs.

We often have patients that spend the day with us and leave our office with a gorgeous new smile. If you require major restorative therapy or are interested in cosmetic smile enhancement, it is possible to plan a longer appointment to achieve great results in a short amount of time. Contact Us and let us know how we can help you smile!