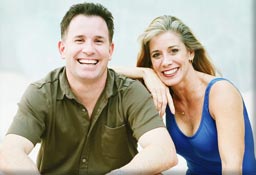 Reconstructive Dentistry

It's never too late to Rebuild your Smile
Current dental technologies and restorative materials are capable of overcoming virtually any smile challenge. We want you to benefit from the opportunities that comprehensive dental care has to offer.

Since opening her office in 1997, Dr. McDonald has completed continued training in a broad range of dental disciplines, including cosmetic dentistry, complex treatment planning, dental implants and bite rehabilitation.


Dr. McDonald and her Smile Team can work with you to prioritize your care and take you on a guided journey back to dental health. We begin with a complete examination including dental xrays, photographs and study models to determine exactly where you are today. Dr. McDonald then reviews your medical and dental history and discusses your smile goals with you to develop recommendations to restore your smile to a healthy state.



"A patient is their own best physician - their body can tell them if something is wrong, and this includes the mouth. As part of the rehabilitation of a patient's oral condition, we phase treatment at a pace that is comfortable to the patient and gives us time to create a relaxed, stabilized bite. Throughout this process, we stay focused on our mutual destination: a healthy, fully functional bite and pleasing smile". Dr. Leanne McDonald





It's time for you to smile again!

Contact Us today to schedule your personal consultation with Dr. McDonald.
Leanne McDonald, DMD, MAGD · 325 East Pushmataha Street · Butler, Alabama 36904 · Ph. 205.459.5535
Leanne McDonald, DMD, MAGD is a General Dentist located in Butler, Alabama. We proudly serve patients in the west Alabama
and east Mississippi area, including Choctaw and surrounding counties, Tuscaloosa and Meridian.