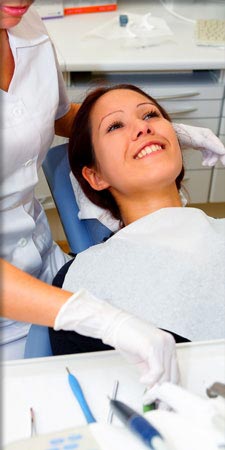 Root Canal Therapy


When a tooth is damaged due to decay or trauma, the nerve of the tooth can sometimes become inflamed and infected. If this occurs, a root canal procedure may be recommended to save the tooth.

Root canal therapy involves making a small opening in the tooth and completely removing the nerve and infected tissue. The root canals are cleaned and disinfected using tiny instruments and then sealed with special materials to help support the canal walls and prevent re-infection.

Because removing the tooth nerve also eliminates blood flow to the tooth, a tooth that has had root canal therapy loses vitality and requires extra protection from a crown.

If a root canal is necessary, Dr. McDonald may recommend a root canal specialist, or Endodontist. The Endodontist will perform the root canal in coordination with Dr. McDonald, who will design a custom-fitted crown for the tooth.

Save Your Teeth
Patients that are facing root canals often ask us if extracting the tooth is a better option. In most cases, this is not the best approach. A missing tooth can cause surrounding teeth to shift or over-erupt in the absence of an opposing bite force. This process can eventually lead to additional tooth loss and more advanced conditions that can be costly and compromise your overall health.

If you have concerns about saving your teeth, please Contact Us today- we want to help you have a healthy smile for a lifetime.