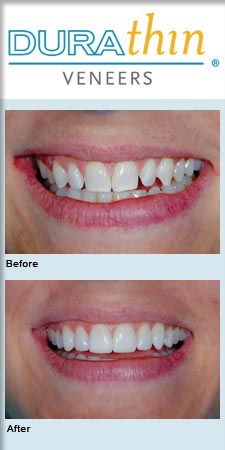 Prepless Veneers by Durathin®


Veneers are thin, custom-designed porcelain coverings that are adhered to the front surfaces of teeth to enhance smile appearance. Because they require minimal to no tooth preparation, they are often used to make cosmetic changes to otherwise healthy teeth, such as closing gaps, or to restore contour and shape to worn teeth to create a more youthful appearance. They are the ideal solution for minor smile imperfections such as stained, chipped, slightly rotated or overlapped teeth.

The artistic beauty of porcelain makes it the perfect restorative material for dentistry - multiple shades are used in the veneer fabrication process to achieve the luster and translucency of natural teeth. This highly polished, long-lasting material is resistant to staining from food and beverages so you always have a gorgeous, bright smile!

Durathin® Prepless Veneers offer the advantages of porcelain veneers with no drilling. We can usually complete your veneers in as little as two visits. Dr. McDonald will work closely with you to design the look that you want and communicate instructions to the Durathin® laboratory specialists to fabricate your custom veneers and create your new smile.



Visit the Durathin® Veneers web site for more information:


www.durathinveneers.com

Ready for your smile makeover? Contact Us today to schedule a personal consultation with Dr. McDonald and explore the possibilities of porcelain veneers.