Select a Team Member Photo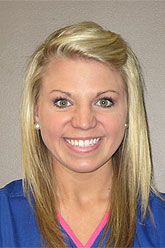 Kourtney Hubbard
Dental Assistant

Kourtney completed her Dental Assistant training at Meridian Community College, and she joined our team in August 2011. Patients respond quickly to Kourtney's outgoing personality and she loves the "never a dull moment" vibe at our practice. As our Invisalign Coordinator, she helps our patients stay on track with their orthodontic care and have all their questions answered as they progress in treatment.

"I love the atmosphere in our office and working with such a wonderful team! We have a great upbeat energy, and each of us truly enjoys the relationships we are able to form with our patients.

Dr. McDonald is very detailed and committed to providing the highest quality dental care. It is such a wonderful opportunity to continually learn the latest information about dentistry under her leadership. I couldnít imagine working anywhere else!"