Select a Team Member Photo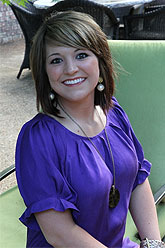 Brandi Patrick
Treatment Coordinator

Brandi's exceptional organizational skills and advertising abilities make her the ideal Treatment Coordinator for our busy office. Her eagerness and enthusiasm to help patients get their best smile is a perfect fit for our team. She and her husband Jamie have a daughter, Anna Michael.

"I never thought I would work in a dental office, but now I can't imagine not working here! I love our team and how we are all like family. I feel our close relationships with each other give our office a great atmosphere, which helps us better serve our patients. It's amazing to see the results and the difference in a patient's confidence after Dr. McDonald restores their smile. Itís so rewarding to get to witness something so life changing."